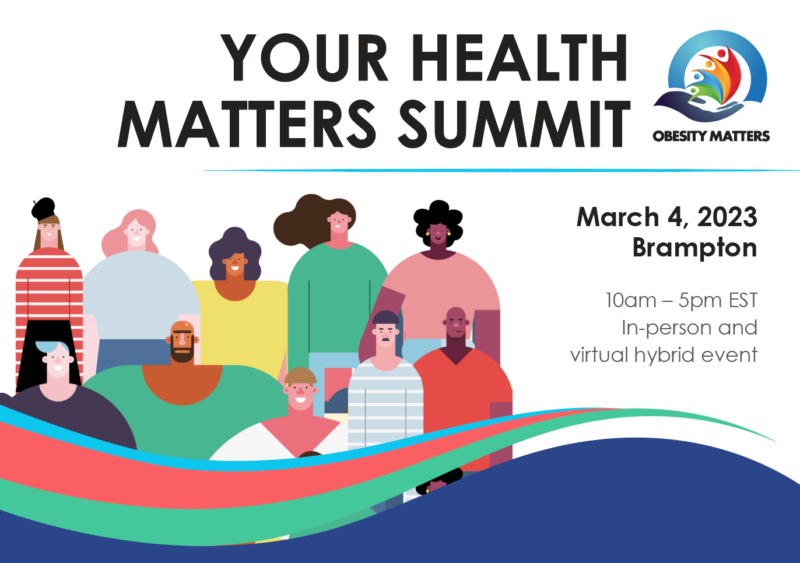 Obesity Matters prides itself on being a diverse and inclusive community where people can come together to share experiences and support one another. This growing community is the lifeblood of our organization, and we relish any chance to bring members together to learn, grow, share and inspire.
That is why we are proud to announce that on March 4, 2023, in honour of World Obesity Day, Obesity Matters will be hosting the Your Health Matters Summit, a full-day hybrid event to bring the community together both, in-person and virtually.
Attendees can expect an action-packed day full of engaging conversation and interactive workshops, vendor booths, cooking demo, makeovers, fashion show and a whole lot of other fun activities!
Community members, health care professionals, educators, social influencers, government leaders and media will be in attendance for the summit, and we encourage attendees to engage and participate as much as possible as we all seek to inspire, learn and grow from each other.
Agenda:
9:00 a.m. – 10:00 a.m.   Registration and Networking
10:00 a.m. -10:15 a.m.   Welcome and Recognition of World Obesity Day – Sandra Elia
10:15 a.m. -11:00 a.m.   Understanding Obesity as a Chronic Disease – Dr. Sean Wharton
11:00 a.m. -11:15 a.m.   Mindfulness & Breathwork
11:15 a.m. -11:30 a.m.   Coffee Break
11:30 a.m. -12:15 p.m.   The Science of Happiness – Dr. Gillian Mandich
12:15 p.m. -1:00 p.m.     Is Food Addiction a Contributing Factor to Obesity? – Dr. Vera Tarman & Sandra Elia
1:00 p.m. – 2:00 p.m.     Lunch
2:00 p.m. – 2:30 p.m.     Fashion Show
2:30 p.m. – 3:30 p.m.    The Impact of Weight Stigma on Mental Health (lived experiences)
3:30 p.m. – 3:45 p.m.    Coffee Break
3:45 p.m. – 4:45 p.m.    What is Your Food Philosophy? (with cooking demonstration) – Tedi Nikova RD, MPH
4:45 p.m. – 5:00 p.m.    Summit Conclusion and Closing Remarks
5:00 p.m. – 7:00  p.m.   Book Signing and Networking Reception
For additional information and sponsorship opportunities,  please contact Priti Chawla, Executive Director, Obesity Matters, at: priti@obesity-matters.com or check out the sponsorship package.
About Obesity Matters
Obesity Matters is an education and advocacy group committed to promoting game-changing dialogue, ending fat shaming, and inspiring health and happiness for people living with overweight and obesity.