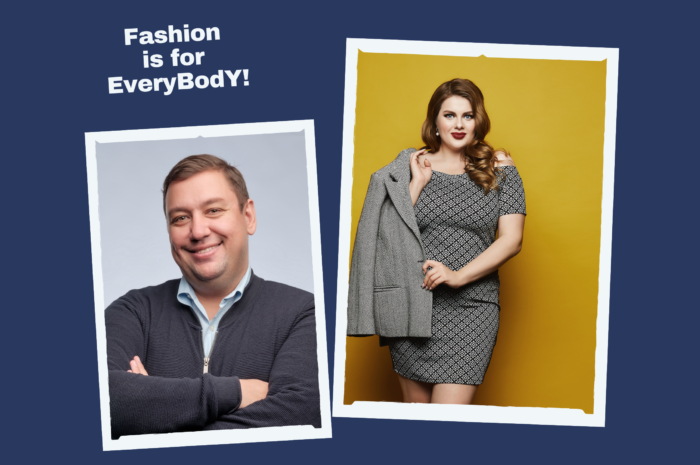 Forget everything you've been told about plus-size fashion.  Avoiding some patterns, staying away from certain colours and being told what is and isn't flattering is advice of the past. It's time to shift our collective attitudes on fashion for people who live in larger bodies.
While it is true that some designers and retailers have been slow to provide options for everyone, there are many companies that now offer an inclusive range of sizing.
It's a movement that more and more retailers are embracing, and companies failing to keep up with the shift toward embracing people of all sizes will likely feel the consequences both in reputation and on their bottomline. In the meantime, we're going to wear the clothes we want, not the clothes we've been left with.
We are all worthy of wearing nice things and feeling good. We shouldn't have to hide behind layers of loose and unflattering fabric – clothing should be an extension of our personality and who we are.
Fashion is for every body. So, we shouldn't have a narrow mind or perspective on what we can or cannot wear. Our tastes should be led by personal choice, not what we've been told is appropriate for us.
The first step toward accomplishing this is to shop your existing closet. Select the pieces you feel best in. What do they look like? What do they feel like? What is the cut? What is the material? Take all of that in and identify what makes you happiest. That's your starting point.
Once you have established what you like to wear and what you feel best in, you can begin to curate your ideal wardrobe.
It's okay to step outside your comfort zone. In fact, it's encouraged.
The experience of shopping can be overwhelming and intimidating. We have all been there, walking around a store and feeling as if nothing in it was designed for you. Or picking something new off the rack only to have it not fit properly or look good in the mirror of the change room.
In those moments of feeling discouraged, when nothing seems to fit just right, don't underestimate the benefits of a tailor. Using a tailor to make sure your clothes fit properly not only helps your look but can increase your confidence. Wearing oversized or baggy clothes never looks good on anyone, of any body type. Getting that streamlined fit can make all the difference in the world.
We must remember to approach shopping and fashion with an open mind. You won't like or love everything, and you have to know that rediscovering your love for fashion is a journey that can take time.
Start by investing in everyday essentials. The everyday blazer. A pair of rich burgundy or heather grey pants that fit just right. The infamous black dress. The classic white tee. All these pieces can not only be used in a variety of ways, but they also look good on everyone and are a staple in any closet.
As we enter the fall, maybe invest in a premium wool sweater or cardigan. Something that not only looks great but feels soft to the touch.
And don't be afraid to accessorize. A great pair of earrings or a necklace can elevate your existing wardrobe and add some sparkle to your look. A buttery leather handbag or pair of shoes can boost your mood and can be perfect to complement your outfit.
Great personal style is not exclusive to certain body types. You are worthy of the season's most coveted and fashionable finds. And don't forget, the secret ingredient to any fabulous outfit is confidence.