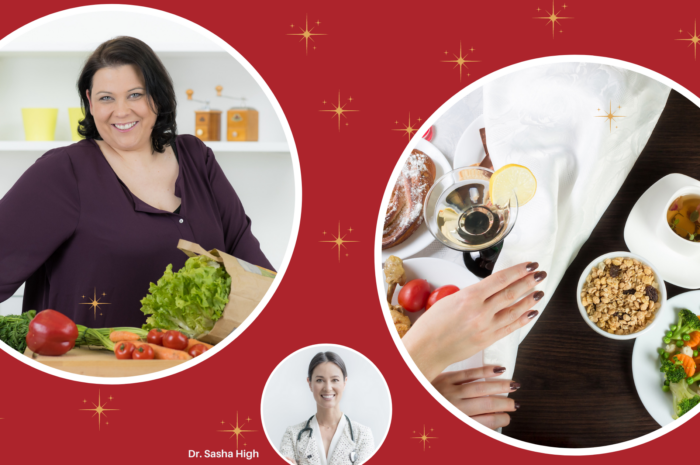 The Holidays are supposed to be a special time of year. They're supposed to bring cheer and merriment and all those other clichés you hear in the songs pumping into every grocery store in the country right now. The focus is supposed to be smiling children and spending time with family.
And often, the Holidays are about all those things. But there is no doubt this time of year can also be quite stressful. Dealing with money and gift ideas and travel and planning who goes where on what day can be overwhelming. And after all of that, we still have a bunch of giant meals and decadent desserts to stress out about.
Eating can be one of the most stressful aspects of the Holidays – no matter what you celebrate – for people living with obesity. It doesn't help when you hear facts like 'the winter holiday contributing to over half of annual body weight gain.' That's why it's so important to head into the holiday armed with a strategy of healthy habits to combat those triggering situations.
First, it's important to understand why we're worried about weight gain over the Holiday to begin with, and the answer is a combination of several factors. Of course, there tends to be more heavy, sugary, and delectable food around during the Holidays as everyone and their grandmother breaks out the famous family recipe – and there tends to be lots of sugar and butter involved.
But it's not just the types of food, it's the quantity. One study found people living with obesity gain more weight during the Holiday season because of behaviour changes during that span. Many people believe that the Holiday weight gain is partially due to a more sedentary lifestyle since everyone is off work and hanging out at home. But data from this study found it was simply because people are eating more food in general and going out to restaurants more often.
There is the pressure to partake from family and friends as well. It's tough to attend a Holiday party or get-together and not try everyone's food or have that extra drink.
With that in mind, how do we build some healthier habits for the Yuletide season?
We've all tried the fad diet or avoidance approach where we deny ourselves the foods we crave as they sit right in front of us on the table. But that never works. The result is either feeling bad about the fact that we missed out or scrapping the plan and indulging anyway.
Dr. Sasha High, an Ontario-based internal medicine and obesity physician, recently joined Obesity Matters as part of our Eat, Play, Love series of events where she suggested we take a different mindset when those cravings and triggering moments pop up.
"You might be able to white knuckle your way through that one meal, but you can't sustain that. You can't continue living that way. The whole experience is negative and human beings can't persist in that negative state long term," Dr. High said, "There are times when you're going to choose to have the pie with Christmas dinner. But then there are going to be times where you let your health goals outweigh the value of that dessert."
Dr. High's suggests framing those tough moments as resisting instead of restricting. When we restrict ourselves, we create a negative mindset that makes us feel bad about our behaviour and what we eat. But when we're saying no to that extra dessert as a way of loving ourselves and showing our body compassion, it's easier to refrain. We're saying no to that extra slice of cake because we want to. Because we care about our health and want to love ourselves. We aren't saying no because it's 'bad'.
Another way to reframe the way we think about how we're eating during the Holidays, according to Dr. High, is to train ourselves away from a feeling of scarcity. When we think about the amazing desserts and meals we're having over the break as something we only get to have once a year, we create a situation where we're using scarcity (essentially, fear) to guide our thoughts and behaviours. We're building up those foods to be scarcer and more important than they really are. Dr. High says a better way to approach those tempting meals is simply to realize that scarcity is in our minds. We can bake desserts anytime we want, there's no need to build the excitement and anticipation within ourselves to the point where we overindulge. "We want to go into the Holiday feeling peaceful to be able to make the decisions you want to be making," she said.
If we can train our minds to think about the Holidays in a way that focuses on empowerment and a positive mindset where WE control what we do, we can enter the new year feeling good about our choices and a little happier and healthier for it.
Happy Holidays!
The complete video can be viewed here: