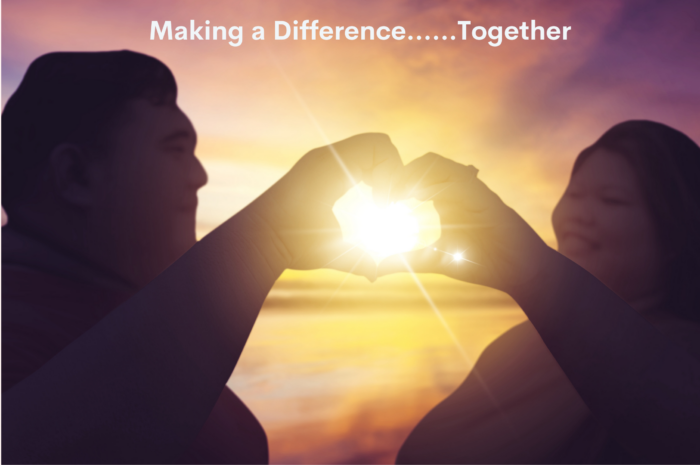 Since our inception, Obesity Matters has been focused on three things: education, community, and advocacy.
First, we commit to educating people about obesity, the different factors that cause it and how we can work toward a future without weight bias.
Then we disseminate that information by building a community of like-minded individuals and encouraging them to connect with others, find support and get science-based information about obesity.
The goal is for those strong community bonds to then turn into action. We focus on restoring the self-worth in those who struggle with weight issues, and advocate for public policy and environmental changes that enable health and well-being. 
We also want to empower people to advocate for themselves, push for the proper care they deserve and help end weight stigma. 
"We are committed to eliminating the dehumanizing effects, negative associations and false beliefs aimed at people strictly due to their weight. I know my place is with this cause because it's personal – for me as well as so many others who have been unfairly judged by our size," said Priti Chawla, Executive Director for Obesity Matters, "I want to redefine obesity through empathy & compassion shifting away from negativity towards positivity helping more individuals lead lives filled with happiness."
But we can't do it alone. That's why Obesity Matters is proud to partner with Healthing, the national health portal for Postmedia.
Postmedia gets more than 16 million visits to its network for news and information every month, and we could not be happier to have part of that network help amplify OM's community and patient reach by becoming one of Healthing's Verified Voices.
Healthing is a fantastic source for trending health stories and trustworthy information, but it is also quickly becoming a leading destination for health-related tools and resources for patients, caregivers and consumers. 
Like Obesity Matters, Healthing is passionate about providing a platform for people with lived experience to share their stories of success, failure, trauma, and joy. 
Healthing is dedicated to helping organizations like Obesity Matters educate, engage and empower patients and the general public to push for change.
"The moment we met Priti and her team and heard about the mission of Obesity Matters and how much passion was going into changing the dialogue around living in larger bodies and educating healthcare providers on the challenges and needs of patients, we knew this was a partnership we needed to forge," says Lisa Machado, executive producer of Healthing. "Add in OM's commitment to raising awareness of the importance of advocating for your health, and it makes perfect sense that we work together to achieve these goals." 
Obesity Matters and Healthing are aligned in our dedication to provide evidence-based information, credible resources and a community that accepts people of all sizes.
We hope you will join us on this journey.
Follow us on Facebook: obesitymatters2us