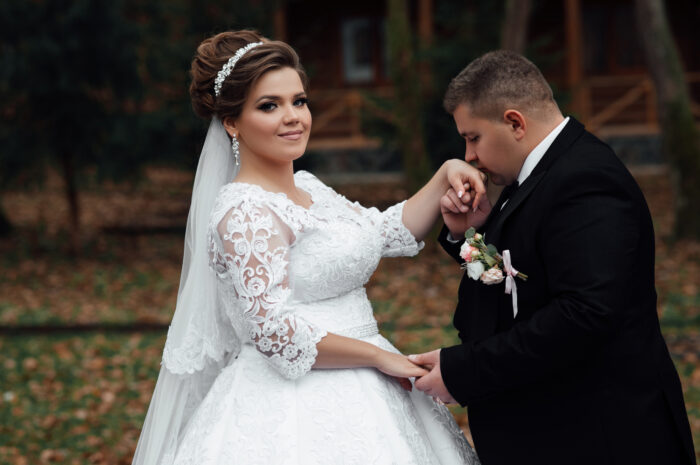 Weddings are special moments in time. Whether it's your own wedding or you are attending as a guest, there is nothing more special than making memories to last a lifetime while surrounded by loved ones.
But weddings can also be expensive and stressful and put a lot of pressure on all the people involved, so we often forget what a wedding day is really supposed to be about: celebrating the love of the couple.
A big part of that wedding-day pressure surrounds how we look on the big day, and people living with obesity can feel it as much or more than anyone. No matter your role, it can feel like you're being forced to look and dress a certain way without any room for 'error'. 
Social media doesn't help, with horrible "sweating for the wedding" and "white dress workout" slogans pasted all over social platforms. And it's so easy to get caught down wedding-related internet rabbit holes and be bombarded with content that does nothing but make you feel bad about what should be one of the best days of your life.
We also expect to interact with people we haven't seen in a long time at weddings – especially post-COVID – and that adds its own kind of social pressure to the occasion as we worry about how to navigate those interactions.
The strain of all this potential stress can add a ton of unneeded tension to a wedding day, so here are a few pointers that will help the day go smoothly and hopefully help to put you in a positive mindset going in:
If It's Your Wedding
First thing's first: You don't have to lose weight for your wedding day. In fact, you don't have to do anything you don't want to do, because it's YOUR day. The only thing that matters on your wedding day is that you feel comfortable and happy.  
Wear what makes you feel good, regardless of what wedding blogs or Instagram or loved ones say. If that means foregoing a certain cut of dress for something more comfortable, go for it. If it means skipping the tuxedo, no problem. Your goal for the day is to make sure you're feeling good internally.
Part of this process could mean speaking up and advocating for yourself as there will likely be a lot of people with a lot of differing – and possibly unhelpful – opinions leading up to your day. 
Understand that these people likely have good intentions for you, even though what they say ("how much weight do you plan on losing for the wedding," etc.) could be upsetting. Remember that only YOU are in charge of your body, and to honour and value the body you are in now. It's okay to listen to the opinions of the people around you, but be sure to push for what it is you really want in the end.    
Now, if losing weight is something you want to do leading up to the day, that's okay too. You just want to make sure you're achieving your goals in a healthful way that will help you feel your best. 
Practice self-care to get your mind in the right place for the wedding. Paint your nails, do a face mask and refresh yourself, take a bath, go for a walk, get a massage, stretch, or do anything else that will put your mind at ease and make you feel good. Getting lots of sleep and making sure to nourish your body will also help you feel ready mentally and physically.
Most of all, remember to have fun. This is supposed to be one of the best days of your life, so make having fun a priority because this is the moment where all the stress of months of planning washes away.  
If You Are In The Wedding Party
Being part of the wedding party comes with its own challenges and pressures. Sometimes the people getting married want or expect a lot from the people in the wedding party, and that can include buying a particular dress or suit and spending a lot of time, money and energy on the process.
This is another time where it's okay to voice your opinion and advocate for yourself. Be honest that you feel better in dress X vs dress Y if you don't feel comfortable in the style of dress the bride has chosen. 
Work with the bride or groom and find something that you feel good in now, that makes you feel your best. Remember: you don't have to be a certain size to be a bridesmaid. 
Don't be afraid to speak up about what you can afford or how much of your time you can give, too.
Otherwise, support the people getting married as best as possible. If you're feeling the stress of the wedding day approaching, chances are they are feeling it even more. 
If You Are Attending As A Guest
The first thing to remember as a guest of a wedding? This day isn't about you. It's about the couple. That doesn't mean that your nerves aren't real and the pressure you feel isn't valid, but it's something to keep in mind that might actually help with the stress you feel.
Everyone is there to see the couple getting married, so the pressure is off you entirely. You are free and able to wear, eat and drink what makes you feel your best so you can enjoy the night surrounded by friends or family in whichever way you please. 
Don't fall into the trap of feeling like you need to look a certain way or lose weight for a wedding. What is important for you as a guest, and the only thing the couple cares about, is that you have fun and feel good on the day. 
Do whatever it is you need to so you can accomplish that goal – within reason of course.