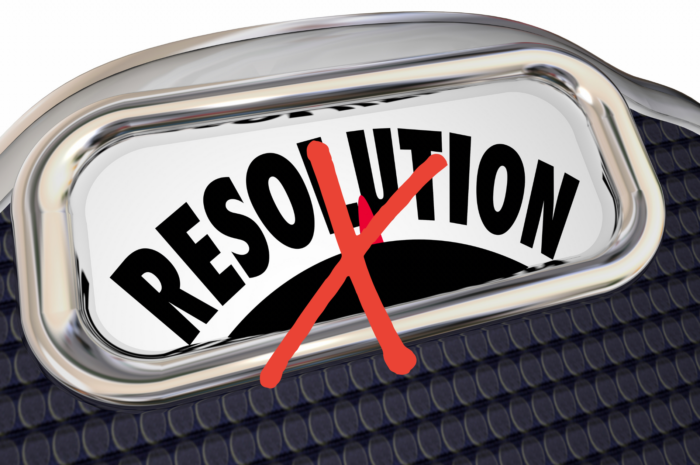 When it comes to New Year's resolutions, it's easy to become a statistic. You may have heard that 80 percent of resolutions fail by the second week of February, or that January 19th is known as 'Quitters Day' because statistics have found that's the day people are most likely to, well, quit.
It should also come as no surprise that the most common resolutions are related to weight loss. People vow to eat better, exercise more or lose weight every year. And every year they fail.
Sometimes we make a resolution to reach a certain goal with our weight loss – setting a target weight or a specific number of pounds to lose – only to regain that weight soon after reaching our goal. That weight regain brings on a feeling of failure which could be detrimental to our weight loss journeys.
So why do we do it to ourselves? Why do we tell ourselves every year, "this is the year" when we pretty much know that it's a matter of time before we stop going to the gym, or put the weight we just lost back on?
Dr. Judy Shiau, medical director and lead physician at LEAF Weight Management Clinic sat down with Obesity Matters back in December, and she believes that people tend to become enamoured with the romance of 'turning the page' into the new year, 'starting fresh' and all those other new years clichés.
Dr. Shiau says people need to dig a little deeper if they really care about making real change in their lives.
"You have to tap a little bit deeper into 'why am I going to do this?' 'What is it going to do to change my life and keep me going in this healthy behaviour that I decided to commit to,'" she said.
"So, it boils down to values. Maybe I'm doing it because I have this sense of adventure and I want to travel and I want to have that mobility, so I'm thinking ahead now. I'm not just thinking of it as a fresh year… I want to be at a healthier weight for myself and have less knee pain so I can do the things I want to do. This will help motivate me to maintain that original health behaviour."
We make these resolutions every year because we care. We care about ourselves and our health and we want to make healthy choices but it's just hard to do without a real plan for how to follow through and maintain them.
Dr. Shiau adds that people often misinterpret what success actually looks like when it comes to weight loss. She suggests that people focus too much on the number they see on the scale instead of the progress they may have made in other areas.
"Some people say 'it's not working for me anymore because I'm not losing weight and I'm just holding my weight stable' but that is actually a win," she says. "That means you're actually doing well. If you have lost weight and your weight is stable, you haven't failed. You have actually done tremendously well for yourself."
It is important to keep some perspective around the reasons why we're making these resolutions to begin with, and make sure to have a clear picture of what our long-term goals are on our weight loss journeys.
Jumping into the new year with a vague plan to hit the gym more often or go on a diet isn't a resolution we're likely to succeed with. And, as Dr. Shiau says, "we must be kind to ourselves and realize there is more than one way to reach that success we're looking for. It's not just about pounds on the scale."
"Think about the non-scale wins. What other differences have I noticed? Do I have more energy? Am I sleeping better? Do I have less pain? Those are tremendous wins" she says.
"Always reflect. You have to think 'what have I gained through this process and is it still working for me?' And if it is, great, you can continue it."
The complete video can be viewed here: