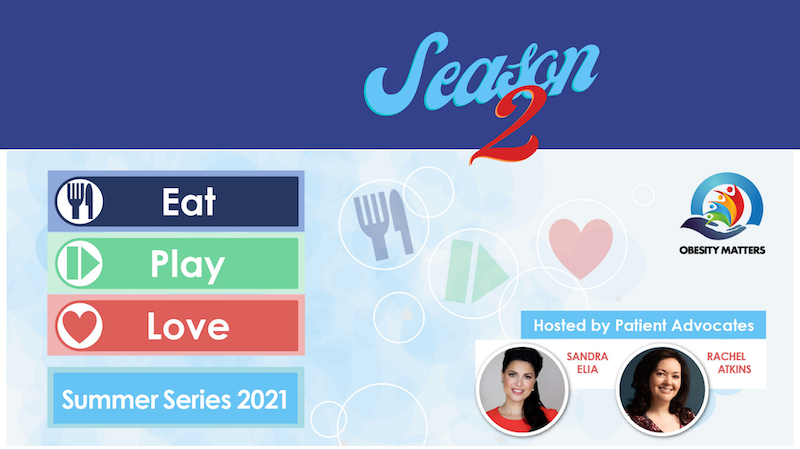 Obesity Matters invites you to
EAT PLAY LOVE Spotlight Series Season 2
with weekly interactive events.
Obesity Matters, because you matter!
This season we are focused on answering the question "What Matters most to our community?" 
From discussing how healthy cooking can boost your mood, to following a patient's journey through the healthcare system, we have a fantastic group of experts who will speak about topics that matter the most to you.
Weight management patient advocates Rachel Atkins and Sandra Elia are back to host the events and interview experts before turning the spotlight on the audience for questions and comments.
Our goal remains to inspire empowerment and action in a safe and supportive environment.
Register today to join us for these live sessions with our special guests, as space is limited. There is no cost to attend.
Summer Series Sessions:
Mapping the Patient Journey – June 3 (completed)
Guest:
Dr. Sean Wharton, MD, PharmD, FRCP(C)
Internal Medicine Specialist
Adjunct Professor McMaster University and York University
Diplomat of the American Board of Obesity Medicine
The Wharton Medical Clinic
Hamilton Health Sciences Centre, ON, Canada
Thursday, June 3 at 9 a.m. PDT; 12 p.m. EDT
What is the patient journey to optimal care and experience, for people managing overweight and obesity?
At the first session, Dr. Sean Wharton will address how adults living with overweight and obesity should be treated within the healthcare system – one that is personalized, practical and evidence-based with the goal of improving health and well-being instead of focusing on weight alone.
Can Cooking Become a Form of Therapy? – June 10 (completed)
Guest:                                                                                                               

Dr. Sandy Van, MD, CCFP, ABOM Diplomate
Lifestyle 360, Program Director
WellOne Medical Centre
Thursday, June 10 at 9 a.m. PDT; 12 p.m. EDT
Dr. Sandy Van is working to evolve the field of behavioural weight management and help the many individuals who struggle with weight. She is joining us for a fun cooking demonstration and discussion about how cooking healthy foods can help boost our mood and be a way to control emotional eating. 
Let's Look at what I'm Eating  – June 17 (completed)
Guest:
Dr. Jeff Alfonsi, MD, FRCPC, ABOM
Assistant Professor, University of Toronto
Virtual Care Specialist
Co-founder, Inner Analytics: health through food
Director of Medical Affairs, Ontario Health (OTN)
Thursday, June 17 at 9 a.m. PDT; 12 p.m. EDT
We can measure our blood pressure, height and exercise amount, but diet remains more challenging to measure. Do we care about just calories, or grams of protein, or fibre? How can we measure how we eat in a way that is easy, safe, and evidenced-based? New technologies exist that deploy AI to help with this. How well do they work? Can they make a difference to me? We will explore these concepts in the session.
Move with Confidence  – June 24 (completed)
Guests:
Dr. Ravi Komatireddy, MD, MCTI
CEO and Founder Motiv Health 
Digital Health Entrepreneur
Sameer Peesapati
CEO, Anooka Health     
Thursday, June 24 at 9 a.m. PDT; 12 p.m. EDT
There are several exercise programs available but they can be daunting to individuals who may have physical challenges or are simply not motivated to work out.  At this session, Dr. Ravi Komatireddy and Sameer Peesapati will talk about using a platform that offers personalized treatment to our condition and ability, based on clinically validated methods available on demand from the comfort of our home. 
About Obesity Matters:
Obesity Matters is an education and advocacy group committed to promoting game-changing dialogue, ending fat shaming, and inspiring health and happiness for people living with overweight and obesity.
For additional questions, please contact Priti Chawla, Executive Director, Obesity Matters, at: priti@obesity-matters.com
Series completed