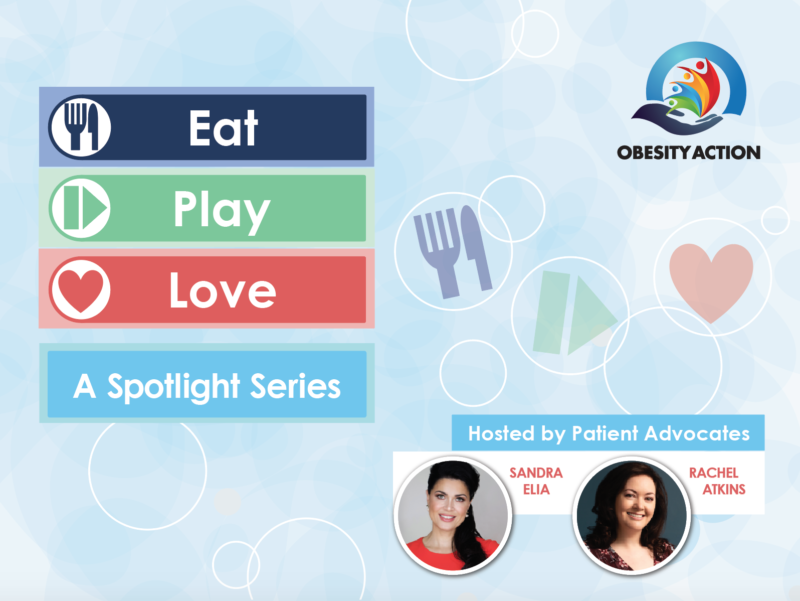 Obesity Matters invites you to the EAT, PLAY, LOVE, Spotlight Series of weekly interactive events hosted by weight management patient advocates Rachel Atkins and Sandra Elia who will seek information from the experts they are interviewing for the first half of the session and will turn the spotlight on the audience to address questions and comments to inspire empowerment action in a safe and supportive environment.
Register today to join us live with our special guests, as space is limited.
Series sessions:
Love has no Size – March 3 (completed)
Guests:
Candy Palmater
Broadcaster on CBC Radio One,
Host, The Candy Show,
Actor, Writer, inspiring International Speaker
Dr. Sean Wharton, MD, PharmD, FRCP(C)
Internal Medicine Specialist
Adjunct Professor McMaster University and York University
Diplomat of the American Board of Obesity Medicine
The Wharton Medical Clinic
Hamilton Health Sciences Centre, ON, Canada
Wednesday, March 3 at 9 a.m. PST; 12 p.m. EST
Is Happiness a State of the Body or Mind?  – March 11 (completed)
Guest:
Dr. Gillian Mandich, PhD
Happiness Researcher, Keynote Speaker
Thursday, March 11 at 8 a.m. PST; 11 a.m. EST
Every Move Counts – March 18 (completed)
Guest:
Graeme Campbell, CAT (C), CSCS
Head Strength and Conditioning Coach, Raptors 905
Ryan Schmidt
Assistant Coach, Raptors 905
Thursday, March 18 at 9 a.m. PDT; 12 p.m. EDT
Healthy Habits Suck – March 25 (completed)
Guest:
Dr. Dayna Lee-Baggley
Psychologist, Cancer Care Nova Scotia
Director, Behaviour Change Research Institute, NS Health
Assistant Professor, Faculty of Medicine, Dalhousie University
Author, Healthy Habits Suck
Thursday, March 25 at 9 a.m. PDT; 12 p.m. EDT
Food Addiction in the Time of COVID-19 – April 1 (completed)
Guests:
Dr. Peter Selby MBBS, CCFP, FCFP, dip ABAM
Professor, Depts. of Family and Community Medicine & Psychiatry,
Dalla Lana School of Public Health, University of Toronto.
Senior Medical Consultant & Clinician Scientist, CAMH and DFCM
Dr. Vera Tarman, MD
Medical Director, Renascent
Author, Food Junkies
Thursday, April 1 at 9 a.m. PDT; 12 p.m. EDT
The Unapologetic Pursuit of Deliciousness – April 8 (completed)
Guest:
Dr. Michael R. Lyon MD, ABOM
Diplomate of the American Board of Obesity Medicine
Clinical Instructor, Faculty of Medicine, University of BC
Chair of Nutrition Committee. Doctors of B.C.Medical Director,
Obesity Medicine and Diabetes Institute
Medical Weight Management Program
Thursday, April 8 at 9 a.m. PDT; 12 p.m. EDT
About Obesity Matters:
Obesity Matters is a not-for-profit focused on people living with overweight and obesity, specifically to advance patient education, community and advocacy at the grassroots level.
For additional questions, please contact Priti Chawla, Executive Director, Obesity Matters, at: priti@obesity-matters.com
We're pleased to recognize and thank our collaborators:
A&A Clinical Research and Raptors 905.
Series completed