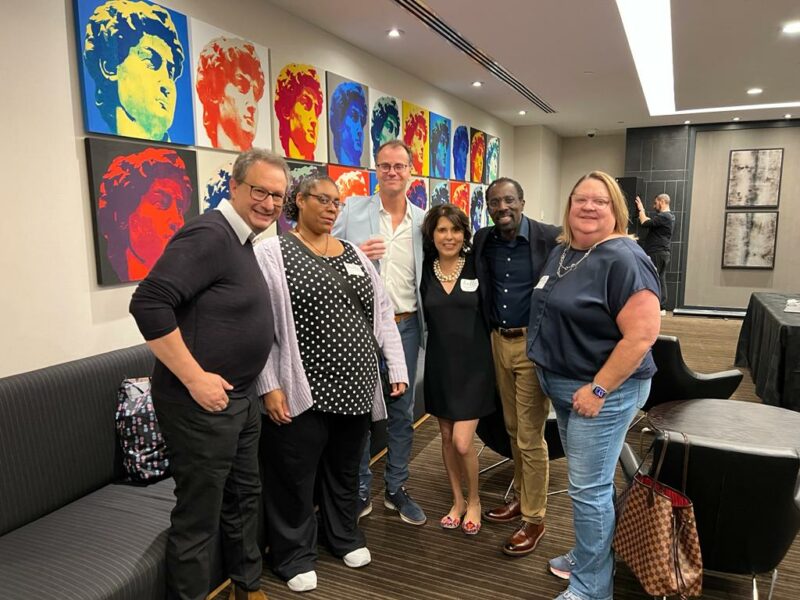 On September 29th Obesity Matters organized its first in-person event open to members of our wonderful, quickly growing community.
The event was a great opportunity to bring the community together for a night of learning, compassion, reflection, and uplifting dialogue. Healthcare providers, advocates, media partners as well as industry leaders, professionals and people interested in weight management were all in attendance for the event.
Our chair, Sandra Elia opened the meeting with an overview of Obesity Matters, while keynote speaker, Dr. David Macklin detailed how we need sustained effort if our goal for success in weight management is going be achieved!
Eating healthily, exercising, discovering, and clarifying the "values" that mean most to us, and committing to reflecting on our behaviours are all part of the strategy outlined by Dr. Macklin. "When you find your values, they never change – they can be the foundation for your motivation," said Dr. Macklin.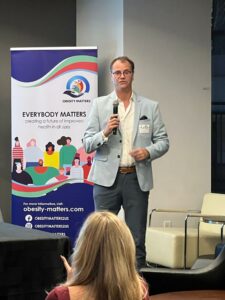 Following the lecture, several audience members contributed an excellent round of thoughtful questions. The Q&A period was a true highlight of the evening as some attendees shared deeply personal stories of hardship and success.
The night was filled with uplifting moments, and many of them underscored the points that Dr. Macklin made on discovering and accepting the values in our lives that are meaningful enough to make a lifelong effort.
These strategies, used in conjunction with evidence-based treatment should be very encouraging for people living with obesity. Dr. Macklin made sure to point out that there are better days ahead for people living with this chronic disease.
However, it is also as clear as ever, the need to bridge the gap between access to these treatments and the people who need them the most. Obesity Matters is committed to helping build that bridge by offering a space to educate, advocate for policy change and provide access to Canada's top obesity doctors through events like these.
The meeting ended with Obesity Matters' executive director, Priti Chawla, reinforcing the importance of building a safe community to offer support, advocate and amplify the patient voice. But we can't do it alone. Reach out today to see how you can help be a part of the movement toward a world with equitable access to obesity care that is void of weight stigma and discrimination.
We would like to extend our gratitude and thanks to those who attended the event. We hope that you enjoyed yourself, learned something new and created some great connections!
Check out the photos and videos from our event!
Invitation: VALUES – The Key to Maintaining Motivation Over the Long Term

Join us for our first in-person event designed to meet the needs and interest of every member of our wonderful, quickly growing community.
We'll be joined by Dr. David Macklin, who will discuss how weight management is a lifelong pursuit which requires sustained effort – and what it entails. You will be invited to consider, "what are the things in my life that are meaningful enough to make me willing to maintain a sustained effort?" We refer to these meaningful reasons as values, and they serve as a key source of intrinsic motivation for all of us.
Keynote Speaker
David A. Macklin MD CCFP
Director, MEDCAN Weight Management Program
Director, Weight Management Mount Sinai Hospital BMI Clinic
Lecturer, University of Toronto Faculty of Medicine
Event Chair
Sandra Elia
Food Addiction Counselor
Chair, Obesity Matters
When:
Thursday, September 29, 2022, from 6-9 p.m. EDT
Where:
Maple Leaf Square – South Tower Party Room
65 Bremner Blvd., Toronto, M5J 0A7
*Refreshments will be provided
Cost: $20
*Due to COVID restrictions, only 60 spots are available. Sign up today!
We understand that many of you can't make it in person, but don't worry! You'll get a video recording of the session as soon as possible. Just join our membership list and the recording will be emailed to you at no cost.
We are looking forward to welcoming you at our event!
Agenda:
6:00 – 7:00pm:  Registration and networking
7:00 – 7:10pm:  Welcome – Sandra Elia
7:10 – 7:40pm: Good Values presentation – Dr. David Macklin
7:40 – 8:20pm: Q&A and discussions
8:20 – 8:30pm: Closing – Sandra Elia & Priti Chawla
8:30 – 9:00pm: Networking
About Obesity Matters
Obesity Matters is an education and advocacy group committed to promoting game-changing dialogue, ending fat shaming, and inspiring health and happiness for people living with overweight and obesity.
For additional questions, please contact Priti Chawla, Executive Director, Obesity Matters, at: priti@obesity-matters.com