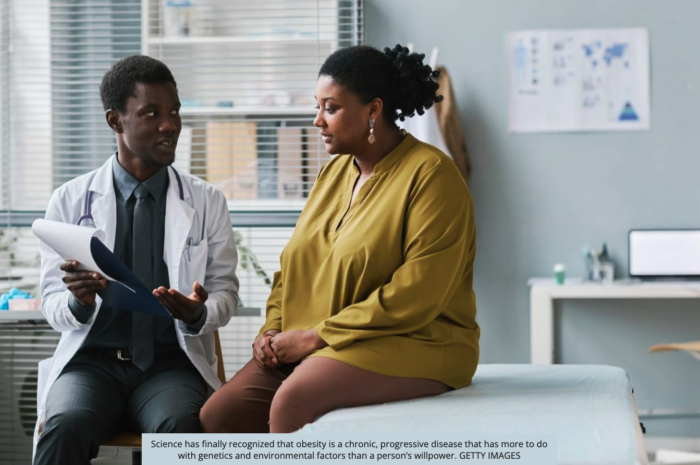 Tackling stigma in the media, educating health care providers and lobbying policymakers are just a few of the challenges that this national advocacy organization is taking on.
Last summer, advocacy group Obesity Matters convened a policy roundtable that comprised a multidisciplinary panel of experts, including those from health institutions, the pharmaceutical industry, dietitians, the food industry and researchers. The primary objective was to address the barriers to access and reimbursement for obesity treatment, specifically in Ontario, but also for the rest of the country.
Since nearly two in three adults and one in three children and youth are overweight or living with obesity in this country, according to the Public Health Agency of Canada , and related health problems cost the health care system more than $7 billion annually and rising, addressing the issue with concrete proposals is all the more vital.
"The roundtable was very multi-faceted because obesity is a complex, relapsing medical condition which requires a multi-faceted approach," says Priti Chawla, founder and executive director of Obesity Matters.
"It's not [about] taking a medication and your blood pressure will go down. It has to be tailored to each individual, it's not one size fits all. So we really wanted to delve into the fact that, because of the stigma around obesity, there's push back in access to treatment. Sometimes health-care providers tell people living with obesity to 'eat less, move more' because they still feel it's a lifestyle issue more than a chronic medical condition."
Evolution and access to obesity treatments
Science has finally recognized that obesity is a chronic, progressive disease and weight has more to do with genetics and environmental factors than a person's willpower. In fact, 70 to 80 per cent of our body mass index is determined by our genes, most of them centred in the brain, according to Obesity Canada . The hypothalamus region of the brain regulates energy intake and expenditure. When it is disrupted due to biological or environmental factors, feelings of hunger and fullness are affected.
But now there are effective anti-obesity medications, such as Wegovy and, with imminent approval, Mounjaro , to treat the condition by decreasing hunger, dampening cravings and slowing stomach emptying. Average weight loss on these drugs, in combination with lifestyle changes, has shown to be about 15 per cent of body weight. But Wegovy costs close to $5,000 a year and Mounjaro will likely be more than $1,000 "per fill," which is out of reach for many people since provincial health plans do not usually cover these medications.
For example, in its Report Card on Access to Obesity Care , Obesity Canada surveyed 9.6 million Canadians with private insurance and found only 10 per cent of plans covered anti-obesity medications. The roundtable discussed private payers' fear of exploding costs, and the need for evidence that proves these obesity treatments also translate into improvements in weight-related comorbidities, such as cardiovascular disease, osteoarthritis and sleep apnea.
"In Ontario, we have the 2020 to 2023 Chronic Disease Prevention Strategy , which addresses the complications of obesity, such as diabetes, but there's still no official guidelines or policies for obesity treatment and management in any of the provinces or territories," says Chawla, who adds that Obesity Matters aims to create a policy framework to align efforts with those Ontario chronic disease prevention strategies.
Obesity education, awareness and initiatives
And while Obesity Matters offers education, resources and workshops as an adjunct to medication, according to Chawla, the organization wants to do more, with two goals being having a bigger impact with targeted initiatives, and grabbing the attention of government through lobbying events as well as data collected from the obesity community.
"It's really about creating a system where we all work in conjunction with all the stakeholders, to further the policy discussions and replicate these roundtables to other provinces," she says.
Other plans for the near future include facilitating public consultations with health care professionals, industry experts and patients to promote treatment policies and address the challenges facing the community, identifying influencers to speak out about obesity and its stigma, creating a Patient Partners Network and running a webinar with private payers to determine why medications for obesity are not covered.
"People are willing to pay for [the treatment of] chronic diseases, but not for obesity, so we really need to consider the cost model for untreated obesity," she says.
Childhood obesity prevention is another area of focus for Obesity Matters, which aims to educate kids on how to live healthily.
"We want to run programs that are focused on childhood obesity prevention, to empower the children so they can be role models for their parents, just like smoking cessation where the children tell their parents not to smoke," says Chawla. "So they not only look after themselves, they can encourage their family members and friends to lead a healthier life."
Healthcare professionals who are trained on how to treat obesity
Chawla also points out the importance of a health care infrastructure that includes health professionals trained in multidisciplinary obesity care.
"We need to educate the health care provider, the family physician, because we've seen in some of our wellness programs that there seems to be a divide between patients who were told by their family physician to eat less, move more, and the other side where there are patients who have actually been treated by an obesity specialist," says Chawla. "The standard of care is quite different."
But even with medication, a healthy lifestyle is important in preventing and managing obesity, which is why Obesity Matters organized a 12-month virtual wellness workshop to bring the community together through expert-led sessions and personalized solutions.
"We are mobilizing our community, supporting, educating and empowering them so they can stand up for themselves," she says. "They shouldn't shy away from asking their doctor for the right treatment, [and settle for being told to] eat less and move more, or anything else stigmatizing."
How the media sees obesity
One driver of the negative perceptions of people living with obesity is the media. And though Chawla says most outlets have moved away from using stigmatizing images and language, there are still some outliers.
"We cannot sensationalize news at the expense of using stigmatizing images," she says, pointing to common usage of photos of a man from the neck down with a big stomach, or a big man wolfing down a hamburger. "Why don't they show a skinny person eating a hamburger? It's a stereotype where you're connecting a fat person with a hamburger and the skinny person with vegetables."
As for terminology, she says it's preferable to describe an individual as "living with obesity" or "having obesity," rather than as an obese person. After all, "you wouldn't say a person is cancerous, you'd say a person has cancer."
What's next for obesity?
While there is continuous progress in how obesity is viewed, treated and understood, Chawla says the findings from the roundtable clearly show that there's more work to be done. Her and her team plan to develop an advocacy strategy based on the recommendations, with the goal being to not only engage Ontario policymakers to support public funding and policy development for obesity treatment, but also activate the obesity community.
"The more community engagement we get, the more supported [people living with obesity] feel," she says. "And the more empowered they are, the more they can advocate. We want to amplify that patient voice."
This article was originally authored by Robin Roberts, a Vancouver-based writer and first published by Healthing on November 14, 2023.
*Correction Notice: In this article, the cost of Mounjaro is based on U.S. data. We would like to clarify that in Canada, a vial of Mounjaro costs $77. Additionally, it's important to note that Mounjaro was recently approved in the U.S. for treating obesity, where it is marketed under the name Zepbound.