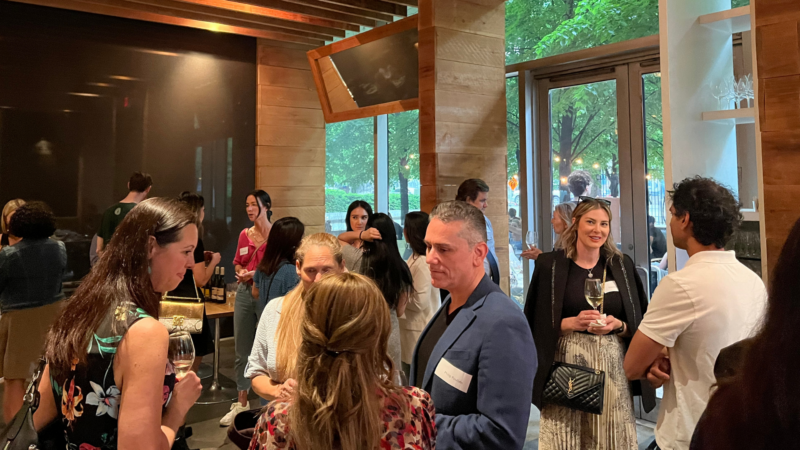 On May 26, Obesity Matters in partnership with ODAIA hosted a networking event in downtown Toronto bringing people from diverse sectors together, including those interested in obesity, healthcare and technology.
This long-awaited in-person gathering was an exciting and uplifting experience filled with conversations that had us leaving the event feeling more empowered than ever before!
Our Chair, Sandra Elia, started off by delivering a compelling speech on why the conversation around obesity should be about human vulnerability – not just body image.
"It's time for a new narrative about obesity. The old adage of 'calories in/calories out' isn't always helpful. This simplistic view on a complex, chronic disease stigmatizes people living with obesity. 'Why can't you just eat less and move more? It's simple.' It isn't," said Elia. "This approach disregards mounting evidence that obesity affects the brain and that it is a real medical condition.  When we point a finger of blame at the person who is struggling with this disease, we stop this person from seeking help."
Obesity Matters founder and Executive Director Priti Chawla later gave a toast to our wonderful hosts ODAIA for their support and hospitality.
The crowd was a who's who of industry leaders and influencers including doctors, dietitians, executives, life coaches and representatives from leading organizations in medicine, pharma, obesity and technology.
As well as being a networking event, the evening was a great chance to highlight and celebrate the work and progress made by Obesity Matters.
Since Obesity Matters launched in March 2021, we have reached more than three million people through our "Eat Better Live Better" workshop series on nutrition and 18 episodes of the "Eat Play Love" spotlight series of interactive events with expert guest speakers who share our passion for creating change within communities impacted by obesity.
Many of these obesity experts were at the event to show their support.
Obesity Matters is also incredibly proud of the dedicated and passionate community we have grown in such a short time with now more than 7,500 followers on social media, more than 1,000 email subscribers and more than 17,000 website users accrued since launching.
Obesity Matters has been featured and profiled multiple times in media like National Post, Ottawa Citizen, Calgary and Vancouver Sun due to the partnership with Healthing.ca who share our passion and commitment to promoting game-changing dialogue, ending fat shaming, and inspiring health and hope for people living with obesity.
Other partners include AAA Clinical Research, Danone, Nestlé Health Science, Novo Nordisk, Oikos, PwC and Raptors 905 who have helped Obesity Matters on our journey toward ending stigma and creating a future of weight acceptance.
As our community continues to grow, we are committed to having open conversations and offering support in a safe space where no one is discriminated against because of their size. We want to change policy so that evidence-based treatments are available to all who need it, regardless of race, sex, socio-economic status, or any other factor.
Obesity Matters is also excited for a future that could include adopting partnerships with innovators, be it in virtual medicine or elsewhere along with influencers and celebrities who can further disseminate the message of self-love.
We want stakeholders who believe in our message and can help debunk the myth that obesity is a lifestyle issue while helping us achieve our vision to create a future of weight acceptance, where health and happiness are a priority.
The events are open, not just limited by sponsorship opportunities – any company interested can get involved!
Support for these events can also be a step to learn more about Obesity Matters and become involved in activities across North America so that together we can make people living with obesity healthier.
"We offer a message of hope," said Elia in her speech, "Science has begun to understand and treat obesity in a new and in more powerful ways. We are dedicated to changing the conversation so that every BODY has access to treatment that is delivered with dignity, respect, and compassion."
We would like to thank everyone who attended and once again thank ODAIA for the support that made this event possible!