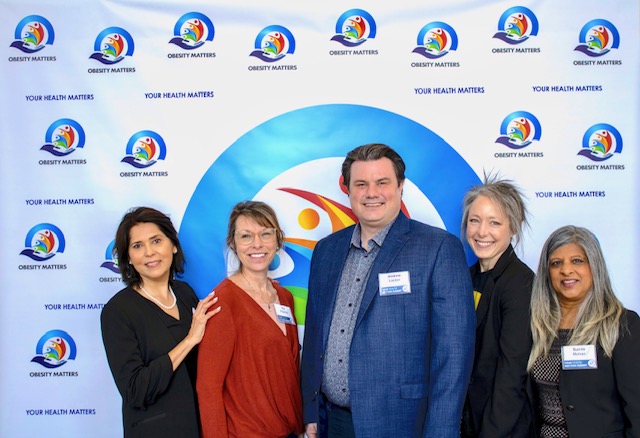 World Obesity Day is a global event that aims to raise awareness and take positive steps towards meaningful change. Obesity Matters, a non-profit  organization, recently held its largest event yet, Your Health Matters, in celebration of this day. Despite inclement weather, the event was a success, with nearly 250 attendees either in-person or online. The day was filled with thought-provoking conversations, inspiring speeches, and even some dancing. 
Opening the summit were hosts Sandra Elia and Rachel Atkins, who welcomed the guests and delivered heartfelt speeches that set the stage for the day's theme: Changing Perspectives. 
The first guest speaker, Dr. Sean Wharton discussed the medical implications of obesity and the myths and truths surrounding the new era of weight management medications, followed by Dr. Gillian Mandich, who shared her research on the science of happiness and emphasized that happiness is not just a feeling but is also a state of mind. 
Next up was an interview between Dr. Vera Tarman and Sandra Elia on food addiction and the launch of Sandra's book, Never Enough.
In Your Own Words moderated by Lisa Machado provided a candid and insightful look into the struggles and victories of people living with obesity. The stories of Andrew Locker and Brian Baumal were not just about weight. They were about finding hope in the face of adversity, about resilience and strength, and about inspiring others to challenge expectations and create change. This session was based on the book with the same name in collaboration with Novo Nordisk. 
We were honoured to welcome Sonia Sidhu, Member of Parliament for Brampton South who commended Obesity Matters on the much needed work in obesity prevention and also highlighted the government's work in diabetes care.
In the final session, Tedi Nikova and Julie Mai provided invaluable insight into debunking the notion that eating less or exercising more is all one needs when it comes to weight management – followed by a food demonstration.
Sandra and Rachel's vibrant hosting style kept things engaging with fun walk-up songs introducing each speaker! Dancing along together truly showcased how this organization succeeds at creating a strong sense of community while also keeping it enjoyable
Executive Director Priti Chawla offered inspiring words at the event's conclusion, expressing gratitude and appreciation for everyone's dedicated efforts in building vibrant communities. 
The Your Health Matters summit showcased Obesity Matters' commitment to changing perspectives and creating a community that is passionate about making a difference. The speakers delivered thought-provoking messages that challenged attendees to consider the multi-faceted nature of obesity. The event was also a reminder that addressing obesity requires a collaborative effort from healthcare professionals, educators, corporations, media, policy makers and individuals. Obesity Matters had a clear call to action for attendees and left them motivated and empowered to advocate for change. It's events like these that show how we can make a difference and inspire others to join the fight against obesity.
Get a glimpse of the event through these photos. Scroll down or click this LINK for the summit videos.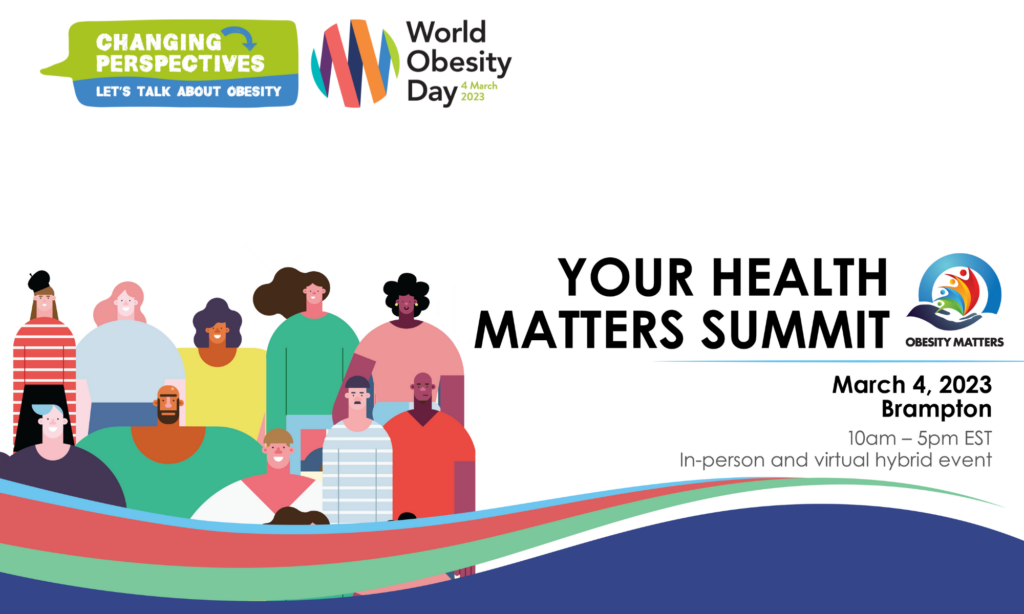 Obesity Matters prides itself on being a diverse and inclusive community where people can come together to share experiences and support one another. This growing community is the lifeblood of our organization, and we relish any chance to bring members together to learn, grow, share and inspire.
That is why we are proud to announce that on March 4, 2023, in honour of World Obesity Day, Obesity Matters will be hosting the Your Health Matters Summit, a full-day hybrid event to bring the community together both, in-person and virtually.  The summit will be held from 10 am – 7 pm EST at the Pearson Convention Center in Brampton, Ontario.
Who should attend?
If you have an interest in weight management or helping others reach their best weight, this summit is for you! Our event welcomes community members, healthcare professionals, educators, social workers, media and employers who are interested in making a positive impact. Together we can create lasting change for healthier lives.
What to Expect:
Relax and immerse yourself in a full day of talks and discussions by experts designed to inspire, motivate and delight! Connect with community members while exploring interactive workshops. Engage with our amazing guest speakers over gourmet healthy lunch or hear them tell their stories. Capture the moment through photos; it's sure to be an unforgettable experience filled with fruitful conversations and joyous memories!
Transportation needs will be taken care of (within GTA) if you cannot drive due to health-related issues or get a ride. Contact info@obesity-matters.com for assistance.
Cost: $25 – Register on Eventbrite
Agenda:
9:00 a.m. – 10:00 a.m.   Registration and Networking
10:00 a.m. -10:15 a.m.   Welcome and Recognition of World Obesity Day – Sandra Elia and Rachel Atkins
10:15 a.m. -11:00 a.m.   The New Era of Weight Management Medications: Myths and Facts – Dr. Sean Wharton
11:00 a.m. -11:15 a.m.   Mindfulness & Breathwork
11:15 a.m. -11:30 a.m.   Coffee Break
11:30 a.m. -12:15 p.m.   Why Weight for Happiness: Obesity and The Science of Happiness – Dr. Gillian Mandich
12:15 p.m. -1:00 p.m.     Is Food Addiction a Contributing Factor to Obesity? – Dr. Vera Tarman
1:00 p.m. – 2:00 p.m.     Lunch
2:00 p.m. – 3:00 p.m.    In Your Own Words – Reflections on Living with Obesity – panel discussion moderated by Lisa Machado.  Panelists: Andrew Locker; Brian Baumal
3:00 p.m. – 3:30 p.m.   Taking Steps Toward Better Health Through Government Programs – Sonia Sidhu, MP for Brampton South
3:30 p.m. – 3:45 p.m.    Coffee Break
3:45 p.m. – 4:45 p.m.    Why Eat Less, Exercise More Doesn't Work (with cooking demonstration) – Tedi Nikova RD, MPH and Julie Mai RD
4:45 p.m. – 5:00 p.m.    Summit Conclusion and Closing Remarks – Priti Chawla
5:00 p.m. – 7:00  p.m.   Networking Reception
This event will be recorded, and by signing up, you consent to your photo/video to be shared on Obesity Matters' communication platforms. You also consent to receive future communications from Obesity Matters.
For additional information, sponsorship and volunteering opportunities,  please contact Priti Chawla, Executive Director, Obesity Matters, at: priti@obesity-matters.com or check out the sponsorship package.
About Obesity Matters
Obesity Matters is an education and advocacy group committed to promoting game-changing dialogue, ending fat shaming, and inspiring health and happiness for people living with overweight and obesity.